Make easy roasted sweet potatoes with just 5 ingredients in less than 30 minutes.
These are the perfect addition to any meal!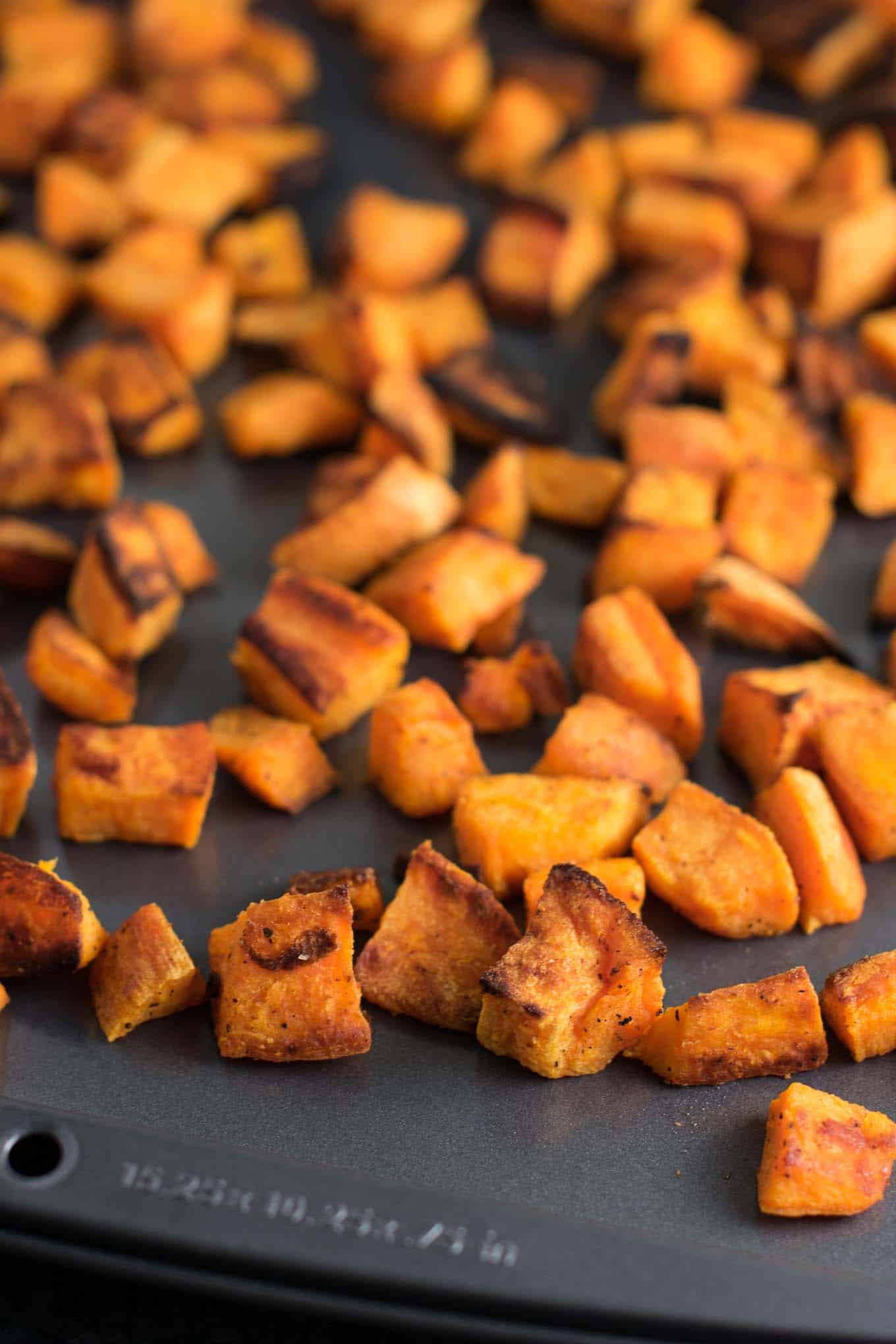 These easy roasted sweet potatoes are my go to sweet potato recipe. They are the perfect side dish for any meal!
Sweet potatoes are one of my favorite vegetables, and I usually buy a few every week when I'm at the grocery store.
It didn't always used to be this way though.
Many foods that I grew up disliking, I learned to love once I started to experiment with cooking myself.
No more plain whole roasted sweet potatoes for me!
Until I started cooking, I'm pretty sure the only time I ate sweet potatoes was at Thanksgiving.
Now I eat them all the time! My favorite way to make sweet potatoes is roasting them until they get a little crispiness on the sides.
From sweet potato nachos to sweet potato tacos and healthy chocolate milkshakes, sweet potatoes are so versatile and so delicious!
Yam vs. Sweet Potato
First things first: A yam is not a sweet potato, and a sweet potato is not a yam.
Sweet potatoes and yams are from two different plant families. Sweet potato skin and flesh come in a variety of colors, but most people are familiar with the red skin/orange flesh combo.
Yams often have dark brown, bark-like skin (they can also come in purple), with white flesh that's firmer and starchier than sweet potato flesh, which is more moist and sweeter.
Yams are generally imported to the U.S. from Africa and Asia and are usually found in specialty grocery stores, rather than your market down the street.
So why do people use the terms interchangeably? The most common theory is that in the 1800s, sweet potatoes were called "yams," short for "nyami," the African word for "to eat."
How to Buy, Store, and Prep Sweet Potatoes
How long do sweet potatoes stay fresh? How can you spot a "good" one? Here are the sweet potato basics you need to know.
Buying Sweet Potatoes
Look for firm sweet potatoes with clean, relatively smooth skin.
Avoid potatoes that are soft or have brown/black spots.
Storing Sweet Potatoes
At room temperature, sweet potatoes will most likely last 1 to 2 weeks. Ideally, store sweet potatoes in a cool, dark, well-ventilated space; they can be safely stored this way for 3 to 4 months.
Don't refrigerate them, because cold temperatures will convert the potatoes' starch into sugar, which may affect the flavor.
Prepping Sweet Potatoes
Wash them right before you cook with them. Don't wash them sooner — water may get trapped in the eyes of the potato and make it musty or moldy.
Use a food-safe scrub brush — not the same one you use to clean around the house, obviously — to dislodge any dirt.
If your sweet potatoes have "eyes," or sprouts, don't toss them — just scoop them out with a peeler or knife.
For optimal texture, baking sweet potatoes in the oven — or toaster oven, if you're only making one or two — is your best bet.
How to Bake Sweet Potatoes in the Oven
Preheat oven to 400° F.
Place sweet potatoes on a baking sheet.
Pierce each sweet potato three to four times with a fork.
Bake for 35 to 45 minutes, or until tender.
Pro tip: If you want to get fancy, cut your sweet potatoes into small cubes and toss them with oil, herbs, and spices before you roast them. Or slice them and spice them for homemade sweet potato fries.
How to Cook Sweet Potatoes in the Microwave
Note: While you can cook a sweet potato in the microwave, it may cook unevenly and the result can be a gummy-like texture if you get the timing wrong.
Depending on how fancy/not fancy your microwave is, you may want to experiment with cooking times until you get your preferred texture. But in general:
Place sweet potatoes on a microwavable plate.
Pierce each sweet potato three to four times with a fork.
Microwave on HIGH for 5 to 8 minutes, rotating halfway through.
How to Bake Sweet Potatoes in Foil
When you bake a sweet potato in foil, it traps the potato's moisture — so it's more like steaming it than baking it.
This can leave you with slightly soft potato skins, but it's great in a pinch — for example, if you're cooking a big meal and your oven is already full.
If you wrap each potato in aluminum foil, you can place them right on the rack around or between large pans that hog precious oven real estate.
Cooking a sweet potato in foil is the same as baking it on a sheet:
Preheat oven to 400° F.
Pierce each sweet potato three to four times with a fork. Wrap each individually in foil.
Place directly on the oven rack and bake for 35 to 45 minutes, or until tender.
Roasted Sweet Potatoes Recipe: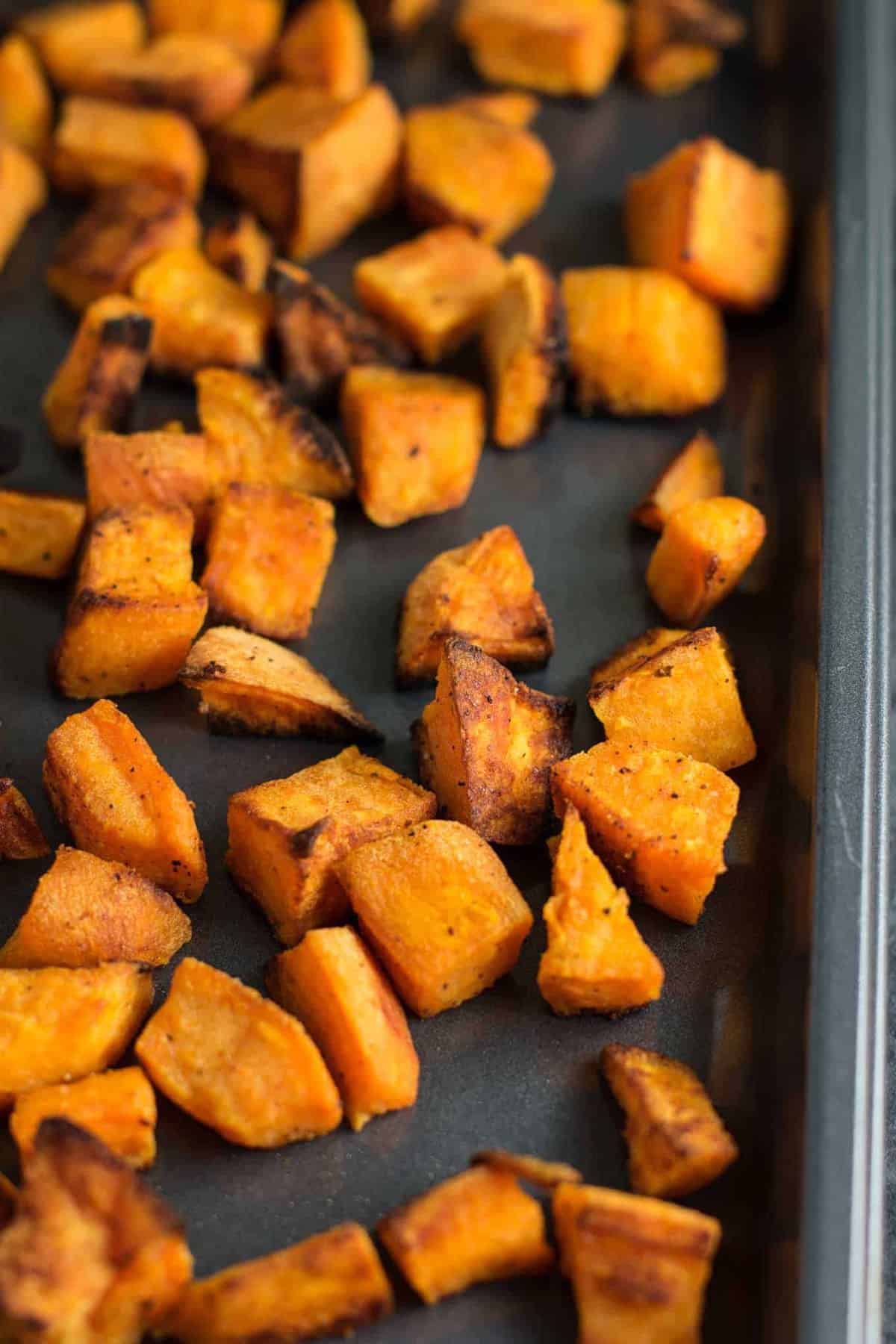 These easy roasted sweet potatoes are made with just 5 ingredients and ready in less than 30 minutes. Versatile enough to eat for any meal of the day!
2 large sweet potatoes, diced into small chunks
1/3 cup olive oil
1/2 teaspoon of pepper
1/2 teaspoon garlic powder
salt, to taste (I used 1 teaspoon)
Preheat oven to 450 degrees
Toss diced sweet potato chunks with the remaining ingredients in a bowl until everything is oily and coated
Spread out on an even layer on a baking sheet
Roast at 450 degrees for 10 minutes, then flip and stir
Roast an additional 10-15 minutes, until the edges start to blacken slightly and crisp, but are not burnt
Did you make this recipe? Be sure to leave me a star rating below!