You've got the suit, you've got the car sorted. Now you just need to ask the perfect girl to accompany you to prom night. This can be the most nerve-wracking aspect of prom, so we've compiled a few classic, creative and out-there ways of doing it to help you out. You'll see we've graded them from Out There, all the way down to Classic – so you can choose the one that suits you and your personality. And if the Ones Out There aren't for you, you can at least marvel at the lengths real people have gone to in order to get the girl. If you've heard of a crazy and creative way of asking a prom date out, we want to hear about it, so contact us and let us know. Here we go…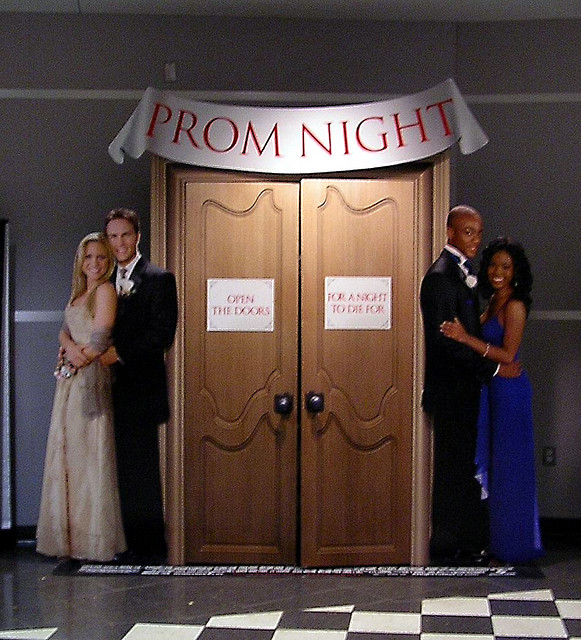 How To Ask A Girl To Prom
Photo from flickr
1. Beauty and the Beast Theme:
What could be more classic and romantic than a Beauty and the Beast-inspired promposal? Here are some ideas to enchant your date:
Arrange red rose petals to spell out: "Prom?"
Enjoy a candlelit dinner followed by a dreamy slow dance under the stars.
Plan a trip to the library where your crush opens a Beauty and the Beast book and, voila, there's a prom message inside like, "Let's book a prom date together!"
Arrange a flash mob with friends singing a personalized rendition of "Be Our Guest." Your friends can dress as dishes, spoons, and even the grey stuff! It would definitely be unforgettable.
Perhaps a simple poem with a bouquet of red roses would be more your speed? How about:
Roses are redA Beauty are youBe my prom date
And my dream will come true!
2. The Little Mermaid Theme:
If you want The Little Mermaid to be part of your promposal world, here are some ideas:
Spend a day warm on the sand where your date can discover a message written on the beach, or hide a promposal in a sand castle.
Not near a beach? Throw a pool party with an "Under the Sea" theme! Invite friends to help make the occasion extra fun and festive!
Blow bubbles as you say, "Life is the bubbles when we're together. Float to prom with me?"
Put on a mermaid tail, sit in a kiddie pool, and say, "We were mermaid for each other! Prom?"
Consider using other fun lines like:
"I'd be a poor unfortunate soul if you didn't go to prom with me!""Be a part of my world at prom?"
3. Tangled Theme:
If you've got a dream to create a promposal that Rapunzel and Flynn Rider would be proud of, ponder on these ideas:
Make your crush a Wanted poster, like Flynn Rider's, and post it around school! It could say: "Wanted: You As My Prom Date!" Or "Wanted: For Stealing My Heart!" (Make sure to insert a picture of your date!)
Paint or use sidewalk chalk to make a mural on your date's driveway asking them to prom. Or, plan to go on a walk where you and your date "randomly" stumble upon your sidewalk promposal masterpiece! Your message could say, "I'd gleam and glow with excitement if you'd go to prom with me!"
Get a fog machine. Create fog. Wait for fog to clear. Then say, "The fog has lifted and at last I see the light. We should go to prom together!"
Find a way to incorporate Pascal and say, "You're one in a chameleon! Go to prom with me? Together we can make prom the Best. Day. Ever!"
While showcasing your smolder, declare: "I know not who you are, nor how I came to find you, but may I just say…be my prom date?"
4. Aladdin Theme:
If your wish is to stay one jump ahead of the promposal trends, consider these fun ideas:
If you're feeling flashy, plan an elaborate Prince Ali-inspired grand entrance into a room where your date is waiting. Friends can help make the event extra exciting!
Dramatically stand at the top of a staircase and declare, "It's crystal clear from way up here that we don't need a magic carpet to have a magical time together at prom! Be my prom date?"
Plan a magic carpet picnic featuring a loaf of bread and some apples to share. Make your date smile by saying something like:
"You're not a prize to be won, but you've won my heart! Prom?""It would be an indescribable feeling if you'd go to prom with me.""My wish is for you to come to prom with me.""I ain't never had a friend like you! Grant my wish and be my prom date.""If you trust me, take my hand to prom."
"When I'm with you, I feel like I'm in a whole new world! Let's fly to prom together!"
5. Winnie the Pooh Theme:
A prom-Pooh-posal would be sweeter than honey! Here are some thoughts to think, think, think about:
Take a walk through the woods with your date and exclaim, "I would walk one hundred acres to take you to prom!"
Go out for a sweet treat. If you don't have honey, any dessert will do! Then say, "It would be sweet if you would bee my hunny to prom."
Wearing a red shirt is a must. Then convert a bucket into a "hunny" pot and say, "Prom without you would be like a hunny pot without a single drop of hunny inside."
Plan a Pooh-themed scavenger hunt, leaving Pooh clues (Like "hunny" pots, a single red balloon, flowers, etc.) that lead to a promposal message like:
"I can't think, think, think of a sweeter prom date than you!"
6. Frozen Theme:
Get the snowball rolling with these heartwarming Frozen suggestions!
Take your date ice skating. Or treat yourselves to snow cones. Or ice cream. Or just…go somewhere cold. Then say, "If I were a snowman, you'd be worth melting for!"
Make two cold sandwiches…and then finish each other's sandwiches.Then open a door and declare that, "Love is an open door with you! So let's walk through the doors at prom together!"
Other promposal lines to give your date happy chills:
"Can I say something crazy? Will you be my prom date?""I might be a bit of a fixer-upper, but I'd love to get fixed up to go to prom with you!"
7. The Nightmare Before Christmas Theme:
This is prom season! This is prom season! You don't want your promposal to be a nightmare, so experiment with these ideas:
Surprise your date with a bouquet of baby's breath, thistles, and dark colored flowers.
Make your promposal day a Halloween extravaganza mixed with some Christmas elements, like twinkly lights and mistletoe! You can say:
"I think it's meant to be that you should come to prom with me.""I feel it in my bones that we would have a splendid time at prom."
"I'll be your Halloween King if you'll be my Prom Queen!"
8. UP Theme:
If your promposal ideas need a lift, here are some UP-lifting ideas!
Customize a mini mailbox (or decorate your date's real mailbox) Carl and Ellie style, complete with your names and handprints. A promposal note can be inside!

Skip flowers and arrange a colorful display of balloons! To make the moment really pop, a prom note could be inside one of the balloons. Your note could say:
"A prom adventure is out there. Are you UP for going with me?""I'd wear the cone of shame for you. Go to prom with me?"
"Let's fly up to prom together!"
9. Moana Theme:
We know you know the way to making a good promposal impression, so consider these suggestions:
Arrange a romantic boat ride with your date and say, "You have my heart, so let's set sail to prom together!"
Impress your date with a hula dance, preferably by the water. You'll get extra props for wearing a hula skirt and asking, "Heihei, do you want to go to prom with me?"
Attach a promposal message to a coconut and leave it in your date's locker!
10. Lady and the Tramp Theme:
Who isn't inspired by the iconic spaghetti scene between Lady and Tramp? Here are some promposal ideas:
Prepare a homemade spaghetti dinner complete with meatballs for you and your date to share and declare, "Oh, this is the night when I ask you to prom!" To enhance the atmosphere, play accordion or Italian music.
If you both have dogs, go on a dog walk or have a cute date at a dog park with your furry friends.
11. Star Wars Theme:
May the force be with you when you ask your date to prom.
With lightsaber in hand, say,"Take my Han so I won't go Solo to prom."
If Yoda's wisdom inspires you, tell your date, "To prom with me will you go?"
Which Disney promposal idea was your favorite? Tell us in the comments!
Music and lyrics for "Under the Sea" were written by Alan Menken and Howard Ashman.
Music and lyrics for "I See the Light" were written by Alan Menken and Glenn Slater.
Music and lyrics for "A Whole New World" were written by Alan Menken and Tim Rice.
Music and lyrics for "Love is an Open Door" were written by Kristen Anderson-Lopez and Robert Lopez.
Music and lyrics for "This is Halloween" were written by Danny Elfman.