Tara Gardner October 31, 2018
Red lipstick has been a cosmetic classic for centuries, and with good reason: "A red lip is the quickest way to finish your look," says Lori Woodhouse, makeup artist and director of education at Tom Ford in the UK and Ireland. "It's also unbelievably versatile; it can be sexy, dramatic, classic, demure, pretty, chic… you can customize it for whatever look you're going for." If you're a red lipstick wearer, you know this already. But if you're new to the bold shade, the idea can be a little intimidating. Here, Woodhouse shares her secret to pulling off a red lip with ease.
The trick, she says, is keeping the rest of your makeup pared down. "The freshest way to work the red lip is going for really bare, glowing skin and a crisp, red lipstick," she explains, adding that her favorite textures right now are sheer mattes, like Tom Ford Liquid Matte Lip Lacquer in Fetishist ($54; net-a-porter.com). After moisturizing, apply a little foundation or BB cream, blush, and mascara – that's it! If you're wearing a pigmented pout, you don't need much more.
Before applying lip color, be sure to slough off any flaky skin so you have a smooth base. And while the application itself isn't exactly rocket science, the different techniques will give you different results. You can always apply lipstick straight from the tube, but this technique delivers the strongest finish, while dabbing color on with your fingertips will give a softer effect. But for even more of an effortless vibe, Woodhouse uses an unexpected beauty tool: an eye shadow brush.
"Recently I did the makeup for actress Portia Freeman, and we wanted to create a red lip that wasn't too overbearing or bold as her vibe was relaxed, so I used an eye shadow brush," she says. Starting in the middle of the lips, buff color outwards with the brush. Then, use your fingertips to blend the edges so there are no lines. "This creates the perfect, just-bitten effect – darker at the center and diffused around the edges," she says. "I also think not using any lip pencil for a look like this makes it all the more modern, as liner can often date the effect."
There you have it: a red lip look you won't feel self-conscious rocking!
GO TO TOP
How to Apply Lipstick on Dry Lips
Drier lips need a little extra attention–TLC, if you will–and prep to get the best lipstick application.  Lipstick simply goes on more smoothly and sits better on hydrated, more supple lips.  So, here's my recipe on prepping and priming drier lips for better lipstick application:
Apply lip balm prior to applying lipstick.  The first step is to apply a thin layer of your favorite lip balm (see above for recommendations) all over the lips.  Ideally, you'll want to do this step in the beginning of your makeup routine so that the lip balm can sit on the lips and nourish them while you're getting the rest of yourself ready.  You can always leave the lip balm on, but lip balm usually shortens the wear of anything put on top of it, so if you're hoping for iron-clad lipstick application, you'll want to gently remove (I like to kiss the back of my hand or blot my lips against a microfiber towel).
Avoid drying formulas.  In some ways, it may seem obvious to avoid using formulas that dry out your lips, but there are hydrating and less-drying formulas on the market (at all price points!).  You might have to sacrifice a bit of longevity for the health of your lips.  Most drying formulas tend to be ones that are more matte in finish, so consider a satin or semi-matte finish formula and blotting before you leave, which will take down a good amount of the shine.
Apply lip balm or a nourishing gloss on top throughout the day.  A little pat of lip balm and go a long way to refreshing application and helping the lipstick look more smooth and flattering on the lips.  A little lip balm won't make your lip color slide everywhere.  Gloss will add more shine but may be easier to apply throughout the day.
Alternate the type of lipsticks you wear.  This is particularly key if you're someone who finds they prefer more drying formulas in spite of the drying aspect of them.  For example, some liquid lipsticks dry out my lips more than others, but I don't feel the consequences too much if I just wear it on Monday, but I would if I wore it for two or three days over and over again.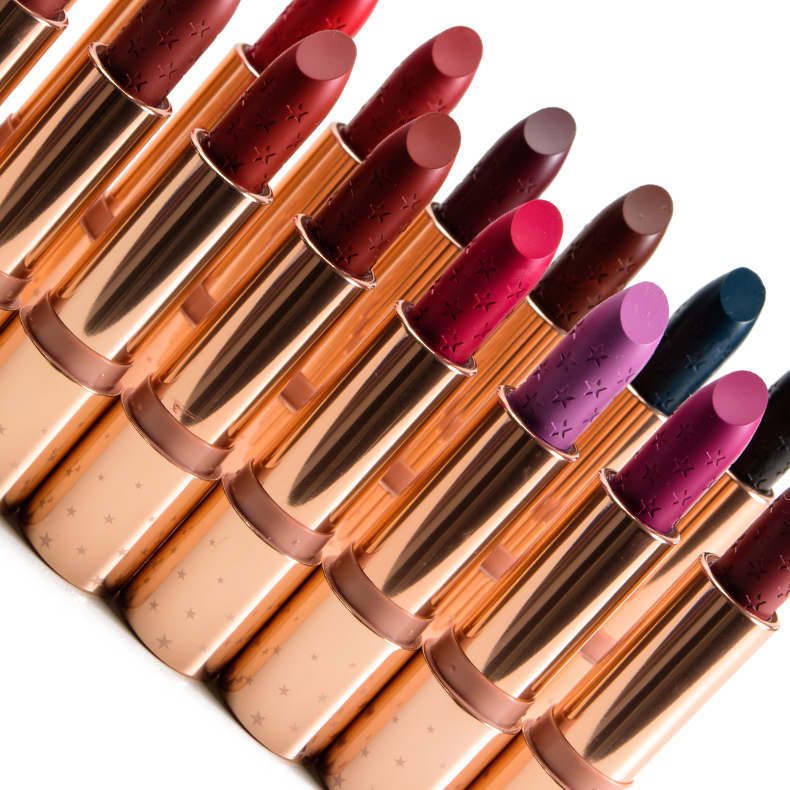 How to Apply Lipstick Evenly
I find that at least 60% of how well (or poorly) a lipstick applies is in how good the formula is.  The drier, stiffer the formula, the harder it is to get fluid strokes and even coverage out of them.  However, if a formula is extremely slippery, it can be hard to keep the color in place, too!  These are my tips and tricks on applying color more evenly that I find work well across a lot of formulas:
Use a lip liner.  A lip liner can be a must-have for some and a nice-to-have for others and completely skippable for some!  A lip liner's purpose is to prevent feathering/migration of lip color beyond the lip area, provide more precision/sharpness of the lip lines, improve adherence and coverage out of your lipstick, help your lip color stay on longer, and can sometimes even out the natural lip color or minimize product getting into lip lines.  There are also 

clear lip liners

, which are also called

universal lip liners

, and these can be applied on the lips but also just outside the natural lip line to prevent feathering and bleeding lip color.  (Urban Decay Ozone 24/7 Glide-On Lip Pencil is one of my favorites.)
Start at the center of the bottom lip and pull the lipstick fluidly to one corner of the bottom lip, and then go back tot he middle and pull the lipstick fluidly across to the other corner of the bottom lip.  I like to part my lips slightly (more like relaxing the jaw than anything else).
Next, apply lipstick in a fluid stroke from one side of the cupid's bow to the outer corner of the upper lip.  It's very similar to the first step, just starting a little left or right of center but using the center of the cupid's bow as a guide.  I like to hold my mouth a little more open than before to start and then actually open my mouth as I move the lipstick past my cupid's bow and toward the corner of my lips letting the lipstick move gradually as I do so.  This stretches the skin on the lips so that lines aren't apparent and allows the lip color to go on smoothly across a stretched surface (minimizes gaps).
Gently press lips together to softly distribute color more evenly and ensure a smooth, even layer of product.  I wouldn't rub my lips vigorously together to blend unless that was necessary; this is more of a gentle, soft rub/press motion to ensure that the layer isn't too thick or too thin in any one place while "blending" any faint unevenness.
Reapply more product as needed.  If you find that an area did not seem to get enough product, go back to just that area and gently press the lipstick against the area and wiggle–unless you find another layer everywhere is more preferred, then just repeat the process.
Clean up edges with makeup remover or concealer.  Concealer is a good trick to sharpen or clean up any blurry edges or wobbles in application.  I recommend using a very small brush and a tiny amount of concealer to do so.   If you haven't applied your base yet (and usually, lip color is toward the end of most people's routines), you could also simply remove any color that went beyond where you wanted it.