Admins are people who can administer your Business Page and must be added so they can make the necessary changes. There are five types of Admin roles. You may need to fill all of these roles or even choose to fill all of these roles yourself.
Manager: The Manager role is what you are when you create the Page. You and anyone else with this designation can edit and delete items on your Page, ban users, post status updates and comments, and send messages to fans. Everything you can do with your Page, Manager Admins can do, too.

Content Creator: Anyone with the Content Creator Admin status can edit the Page, create a status update, create ads, and view Insights on your Facebook business Page, and it will look as though the Page made the update, not them personally. The status update has the Page thumbnail image and the Page name listed. A Content Creator can do everything a Manager can do except add or remove Admins.

Moderator: The Moderator Admin status allows someone to reply to comments, ban and block people, send messages, create ads, and view Insights, but not to create a post on the Page.

Advertiser: The Advertiser Admin status allows someone to view Insights and to create and manage ads on behalf of the Page.

Insights Analyst: The Insights Analyst Admin status lets someone into the Insights interface and download data from that area.
Here are some quick points about being an Admin of a Page:
You can have as many Admins and Admin types as you want.

Always have at least one other person as your Manager Admin in case you're unavailable to make changes in other Manager roles.

All Admins need to click the Your Settings link on the navigation menu to adjust the e-mail notification settings and must understand the voice process. By default, Facebook selects the e-mail notification check box for all activity on the Page. This setting means that all Admins receive e-mail notification whenever someone posts or comments on the Page unless Admins deselect it.

You can remove your Admin status (or have another Admin remove you). Then you view your Page just the way any fan of your Page does. You don't see the Admin panel, and when you post, you post from your personal Profile. You don't receive any e-mail notifications for the Page.

Facebook requires each Page to have at least one Manager Admin. If you try to remove yourself as a Manager Admin before adding someone else, you won't be able to remove yourself.
Here are the steps for removing someone as an Admin of your Page:
Go to your Page, and click the Edit Page button.

Click Admin Roles in the drop-down choices.

Click the X next to the name of the person you want to remove.

If you're removing yourself, click the X next to your name.

You won't be able to edit your Page or gain access to Insights, ads, notifications, and so on when you remove yourself as an Admin. If you try to remove yourself as an Admin before adding another Manager Admin, you won't be able to remove yourself.

Click Save Changes.

Enter your Facebook password as a security step and click Confirm.
2. Use Insights to determine what's working for your Page
There are two basic types of Facebook Page admins: Those who post based on hunches as to what motivates engagement, and those who look at Facebook's Insights to see what actually drives engagement. Checking Facebook Insights will help you give your fans what they want. For example, if you notice that the posts which don't include images have better reach and engagement than those that are text only, try removing the images to see what happens.
Since Facebook is always messing with EdgeRank, it can seem like just when you have figured out the formula for engagement, something changes. Checking Insights will help you stay on track, no matter what algorithmic changes Facebook throws your way.
A few months back, Facebook did a complete overhaul of Facebook Insights and Jon Loomer wrote a nice article for Social Media Examiner that walks you through the latest features.
4. Choose your featured Likes
Liking other business Pages helps you build connections (and when they reciprocate, gives you added exposure) but you might not want certain Pages to be among the first things visitors to your Page see. Luckily, you can control which of the Pages you've Liked appear on your Timeline. Five of these Likes are displayed at any one time, and the five that appear randomly change each time the visitor to your Page refreshes — unless you edit which Pages appear.
Why would you want to do this? You might want to feature pages that are related to your business. Or perhaps you want to feature Pages that you think will be relevant to your readers. (If you pick more than five, they will rotate randomly.)
To choose featured Likes, go to your Admin Panel, choose "Edit Page" then "Edit Settings." Next, click "More" and then select Featured. From there you can edit your featured Likes.
5. Bookmark Facebook's Page Guidelines and reacquaint yourself with what's changed recently
Facebook changes its terms of service…..often. And unless you follow the company's blog, or frequently check their Page Guidelines it can be difficult to keep track of what's allowed — or not — during a given month.
Of course reading social media blogs, like Social Media Examiner, will help you stay in the know, but Page Admins should still bookmark Facebook's Page Guidelines and read the document at least once a quarter.
6. Use Facebook as a Page instead of as yourself
Chances are if you're the admin of a Page, you simply head over to your business Page and when you comment or post, you act as the business. But did you know that you can actually change your profile so that you are on Facebook as a "Page" and not just as a personal profile acting as an admin on the Page? Why would you want to do this? If you happen to own or work for a B2B company, it's a good way to build alliances with other businesses that are in your same industry (but aren't competitors).
Let's say you own a restaurant….you'd want to interact with hotels nearby so that when people check out the hotel's Page, they see your (positive and helpful) comments and are motivated to check out your business. Of course there's a fine line — you don't want to post too often, or be so complimentary that your posts appear insincere, spammy or otherwise annoying. But posting as a Page is a great way to network with similar businesses and leverage the marketing power of Facebook.
To act as a "Page" on Facebook, click on the settings icon in the top right corner of your Facebook profile and you'll see an option to "Use Facebook As" with a list of the Pages you admin. When you choose to Use Facebook As a Page you are able to not only Post and Comment as that Page but your News Feed contains the updates from the businesses your Page follows instead of your personal friends and Page Likes.
Hope you find these tips helpful as you look for new ways to invigorate your Facebook presence!
The original version of this post appeared on Social Media Examiner. 
How do I access the Page Roles area to change what my moderators can do?
If you want to change the roles that people have in moderating your page, go into the Page roles area by choosing Edit Page in the Admin Panel, then Manage Page Roles:
What are the different Facebook page moderator levels?
You can choose different levels of moderation to give to your admin people. If you want to change these at any time, go into the Page Roles area by choosing Edit Page then Manage Page Roles (see screenshot in the previous section.
Now, click on the arrow by the role name assigned to your moderator, and you will see a list of choices. The role that the administrator currently has will have a tick next to it. Click on a role to change the privileges that the administrator has.
An Admin can send messages, post as the page, create ads, see which person has created a post or comment, view insights (stats etc.) and assign page roles
An Editor can do everything that an Admin can do, plus they can edit the page itself.
A Moderator can do everything that an Admin can do, plus they can delete comments on the page
An Advertiser can see who created posts and comments, view insights (stats) and create adverts
An Analyst can see who created posts and comments and view insights
What does having moderator status for a Facebook page actually mean?
Once you're a moderator / admin, you can do any or all of the following (see list above for the different roles): see all of the statistics for the page, who likes that page and how the posts on the page are doing; comment under the name of the page (so in my case, Laura can post on the page as if she's called Libro Proofreading and Copyediting Services) and delete other people's comments as appropriate; create adverts.
So, if you are the owner of a page and add admins, be careful if you've associated a bank account or PayPal account with the page, or make sure you choose the appropriate role level for your moderators and make sure you trust any people to whom you've given full roles to not to go booking millions of adverts without your say-so!
To summarise – if someone asks you to be a page administrator / moderator for their or their business's Facebook page:
Make sure you 'Like' their page first
Ask them to find you in the list of people who 'Like the page'
Ask them to click and make you a moderator
You will receive a notification and the page will appear at the top of your page list in the left-hand margin
Click on the page name in the left-hand margin and you will have full administrator rights
In this post, we've learned how to add someone as a page administrator, and what happens to that person's view of Facebook once this has been done. Thanks to Laura Ripper for providing screen shots and being a guinea pig page admin! Her Facebook page is here and the Libro one is here.
If you've enjoyed this post and found it useful, please share it using the buttons below! Thank you!
You can find more resources on social media in my blog resource guide (link takes you to the social media section) and read about using social media for your business in my book on growing your business.
Related posts on this blog:
Facebook for business
How to delete posts and block users from your Facebook page
Step 1: Go to your Facebook fan page
To access your Facebook fan page, go to your news feed at facebook.com. If you saved your fan page under "Favorites" when you created it, you should find your fan page under "Favorites" on the left side of your news feed.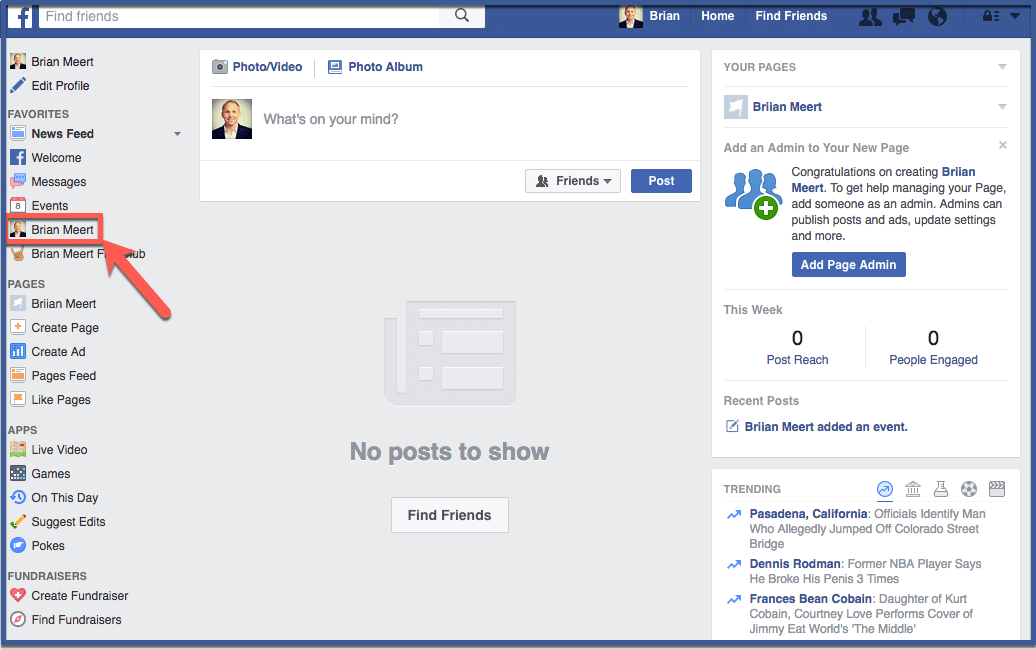 Step 4: Add an admin
To add an administrator, type the name or email of the person you want. Here, you can assign different roles to different people. For example, you can also assign someone to be an editor, advertiser, moderator, or analyst.
After assigning roles, click "Save".